Sound
Volume II, Issue II
semigloss. Magazine's latest publication SOUND explores sonic experiences through performance, spoken word, and music discussed within the context of contemporary art.
Morehshin Allahyari
Nino Baumgartner
Jeff Gibbons
Sally Glass
Kenneth Goldsmith
Peter Lucas
Shelby David Meier
M
Jim Nolan
Carolyn Sortor
Sharon Turner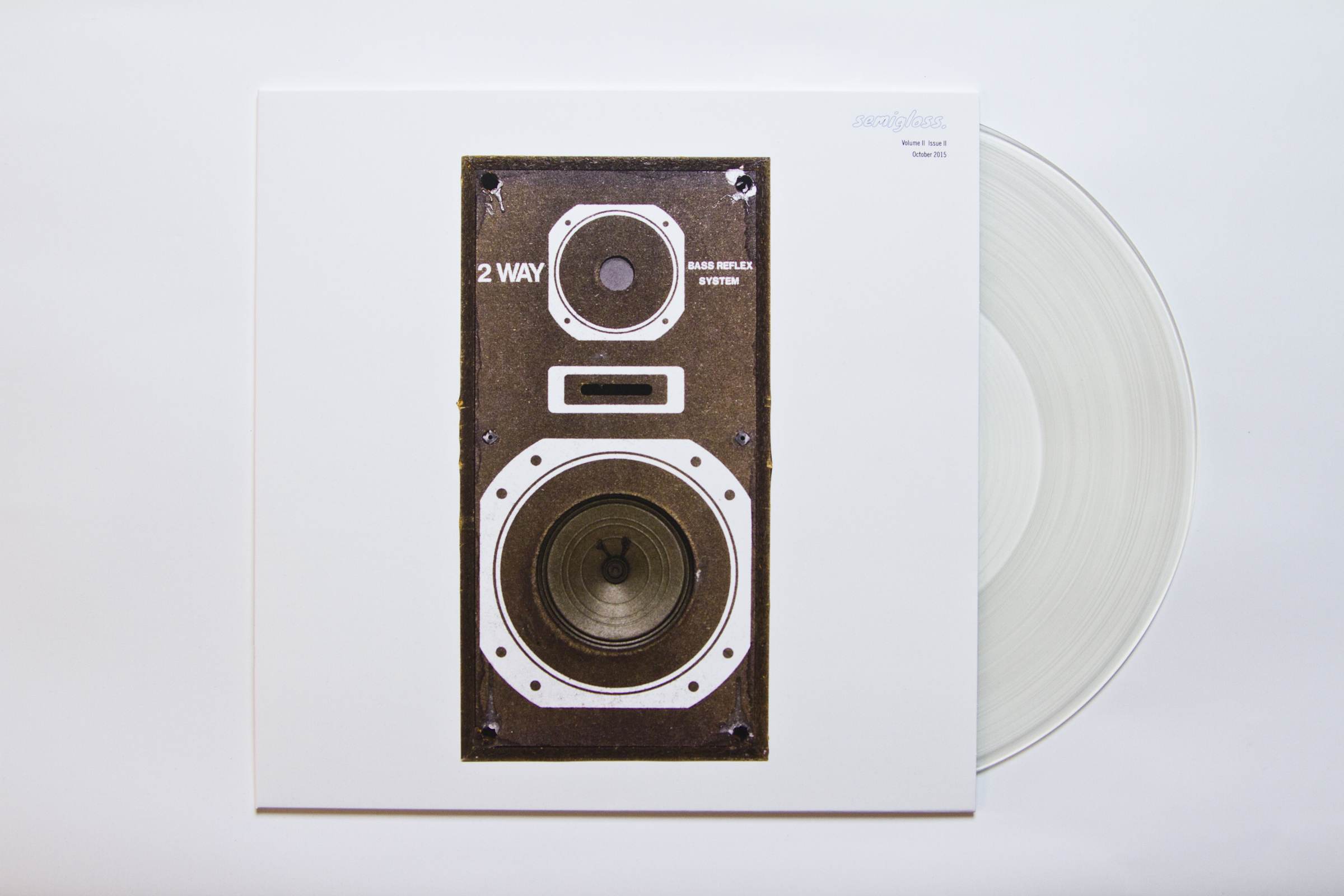 Volume II, Issue II: SOUND
"I can draw you so that you have no ears. I can draw you so that you have no ears at all. So that where your ears should be, there is only blank paper." – Laurie Anderson
It is often said that the most impactful artwork, that which is most potently recalled, generates more questions than it does answers. So, as you familiarize yourself with this, our 6th issue of semigloss., you might be asking why a print magazine would decide to publish an issue on sound art—one that not only features writing about sound art, but also sound in its direct form. It has always been our mission to continually question our publication's formal and conceptual boundaries. And what better way to subvert the limitations of a visual art magazine than by placing its experiential departure point within an entirely different sensory arena? As challenging and time-consuming as this issue has been to produce, we are confident that the result is at once compelling, gorgeous, and indicative of this publication's gravitation towards what sound art represents within the canon of contemporary art practice.
Sound art is experiencing a moment of sorts in contemporary art, with exhibitions emerging internationally in the past several years, such as Soundings: A Contemporary Score at MoMA, RPM: Sound Art China in Shanghai, and Word.Sound.Power at the Tate Modern in London. Sound artist and theorist Brandon LaBelle formulates an explanation of sound art as "a practice that harnesses, describes, analyses, performs, and interrogates the condition of sound and the process by which it operates." Though one can point to early applications of sound-as-medium in the Dadaist "sound poems" of Hugo Ball (at the Cabaret Voltaire in Zurich) and Kurt Schwitters, and in the practice and performance of Fluxus artists like Charlotte Moorman, Nam Jun Paik, and George Maciunas, the origins, lineage, and definition of sound art are not at all concrete. However, as Suzanne Delehanty notes in her essay "Soundings", when sound first entered the fray of creative production and exhibition, it marked a new beginning for artistic practice. "In the beginning," she argues, "was the spoken word, ambient sound, noise, music and silence; all allowed artists to transform the visual arts into a new and third realm… and had become both the subject and the object of art."
It is both sound's ephemerality as well as its ability to be transduced into structural and even sculptural forms, which predict the variety in its potential applications and employments. Take for example Bruce Nauman's Days or Cardiff and Miller's The Forty Part Motet, which project and organize sound as a three-dimensional, spatial experience. Another sound artist, Maryanne Amacher, was concerned with architecture and space as an environmental element of her work, describing her work in terms of "the tone of the space, the color of it." Many consider sound art to be synonymous with experimental or noise music, both trends in sound that champion the inclusion of all sonic phenomena, an idea originally proposed by Italian Futurist Luigo Russolo in his 1913 manifesto, "The Art of Noises". This tendency enacted a trend to make formal distinctions between traditional forms of music and more experimental forms, which prompted several seminal artists to deconstruct how sound was experienced and conceptualized. The most well-documented example of which, of course, is John Cage, who not only composed and performed some of the most important experimental sound works of our time, but completely redefined the idea of silence, presupposing that it doesn't actually exist.
Among the works presented here is Morehshin Allahyari's #AsYouScrollDown, comprised of messages extracted via Twitter published during the Green Revolution which took place in Iran in 2009. We hear a stoic, robotic voice, somewhat evoking Alvin Lucier's monumental work I am sitting in a room, reading aloud the frustrated and committed musings of an affected youth launched into rebellion by the corrupt actions of the Iranian government. The voices clamber on top of one another, and then retreat, twisting into a cacophony not unlike the incendiary energy of a radical revolution. Offset by the swirling undercurrent of ambient drones created by collaborator Andrew Blanton, Allahyari's tweets encapsulate the unheard dispatches of a voiceless majority during tumultuous times of political upheaval.
Wonderwall is the result of an installation staged during "Sympathy for the Devil", an exhibition held in conjunction with forthcoming release of this issue of semigloss. at Hello Project Gallery in Houston, Texas, which featured several works published within. For Wonderwall, a site-specific installation consisting of a karaoke booth was set up like a shower stall, in which single individuals were instructed to, wearing headphones, sing along to music in into a microphone to lyrics which appeared on a monitor in front of them. The isolated vocals from the microphone were played back into the gallery space for all to hear. They were then recorded and layered into a track on this album, in an allusion to the participatory and collaborative sound, happenings, and event scores of Yoko Ono as well as other artists of the Fluxus movement.
In a contrasting return to the personal, Jeff Gibbons appropriates the love song, "You're Just Too Good To Be True", but redacts all audible instances of "you", replacing them with atonal beeps. His mediation of this familiar melody interrupts our fluid experience of the tune, the lyrics, and the emotional content. Perhaps a fitting parallel to the ways in which we block each other in interpersonal relationships or other intimate interactions, Gibbons highlights the rejection of "the other". Peter Lucas, shifting our focus from the personal to the universal, has collected and collaged field recordings into a dynamic tapestry of common noises of the earth. Lucas' work here is a direct homage to the Golden Record, an archive of sounds chosen by producer Ann Druyan and astronomer Carl Sagan and sent out into deep space on the Voyager mission, to be a true portrait of our world in the event of extraterrestrial interception.
Our desire is not only to highlight a diverse and poignant group of sonic artworks, but also to delve into the unique processes of perception and response that are involved in the sensual and conceptual apprehension of the works themselves—how, for instance, different modes of transmission can affect the ways in which one receives tones, textures, or messages; or how the deliberate addition of the element of sound to visual stimuli can exponentially expand interpretive possibilities. This sentiment is echoed by Steven Connor, who explains that, "the ear is the most delicate of organs because it more prone than any other organ to damage by an excess of the stimulus it is made to detect."
As we have attempted to demonstrate in previous issues of semigloss., it is our explicit mission to consciously renegotiate the definitions of media, concept, and form. We believe sound to be the next underexplored frontier in art-making, and we take note of how, through the mediums of radio broadcasting and the printed magazine, it shares with the written word a historical basis in the dissemination of information (Kenneth Goldsmith ponders the implications of the radio in his essay within). Operating as an exhibition in print form, this edition of semigloss. continues our existence as a freshly defined space in which artists can share their work, their words, and their ideas. We hope you enjoy it.
-- Sally Glass, Editor-in-Chief